I mentioned that I would post my cousin's pregnancy announcement from facebook.
Let me preface this with the 'story' of how DH and I found out. We were about to head out to Hobby Lobby, and then DH gets a text from our friend. (Uhm, yeah....my cousin married a college friend of ours, after she got herself purposefully knocked up the first time....b/c she "can't swallow pills")
So just as we are leaving, DH gets a text, looks at his phone and says "Son of a bitch!"....
text reads: "I'm gonna be a dad again". I didn't have my phone on me so DH shows me. Commence crying.
Guess what? We didn't end up going to Hobby Lobby. Instead, we got really wasted. Alcohol is, after all, the only high point to being infertile, right??
DH ends up texting back and forth a little, and I kept telling him to stop because it was infuriating me just being reminded of the crap!
Well, we find out she literally just took the pregnancy test, oh about 20 minutes before the 'announcement'. Of course, what did I expect, considering the FIRST time she got pregnant and they'd been dating for about 5 months, they told the whole family right away--through text of course--AND expected everyone to be happy about it!!??!
In this day and age, we get multiple forms of torture--they also announced on facebook right away: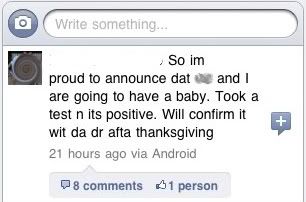 Oh isn't dat jus speshul?!!!! So not only does she announce it before seeing a doctor---and before the stick is even dry, she also speaks like a 14 year old child. And these people can procreate.
In case you want to read more details about why they suck so much (and hear me bitch about what morons they are), I will direct to you
THIS
post on my blog. Their back-story adds a whole other level to the fertile hatred. Seriously, it will make you want to slap her more than you already do.